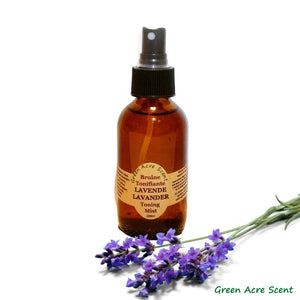 Lavender Toning Mist
Regular price $20.00 $10.00 Sale
Light. Oil Free. Hydration. Unwind
Reinvigorate your skin throughout the day with this refreshing boost of hydration!
Known to sooth dry and irritated skin, relax and calm the body and mind, lavender toner is the facial mist that pampers your skin on any occasion. 
Use it any time you need to refresh your skin or look for an unwind moment!
Spray it around your pillow at nighttime or in the room to help improve sleeping and relaxation. 
Key ingredients:
Lavender hydrosol (Organic) 
Traditionally, Lavender is used in cosmetics to support skin cell regeneration and sooth the skin sensations and symptoms related with skin dryness and sensitivities.
Glycerin (Vegetable, GMO-free, allergen-free)
Glycerin is a natural humectant that provides emollient-like benefits to the skin, attracks and locks in moisture to its surface,  ensuring in return a soft, smooth and healthy looking appearance.
Skin type: All types 
With 95% Organic Ingredients | Made with Organic French True Lavender hydrosol | VEGAN
Handmade in Canada | Not tested on animals
We do not charge GST/HST taxes.
Scent is from botanicals and/or top grade essential oils (organic whenever possible) 
Instructions:
Mist on your face after cleansing and before the moisturizer. Use thought the day to refresh and hydrate your skin. Can be also applied on your body and hands. Store the toner in cool and dry place away from direct sunlight
Size: 30ml
Ingredients (INCI): Aqua, Lavandula angustifolia (Lavender) Flower Water*, Glycerine¹¹, Gluconolactone³, Sodium benzoate³
*Organic; ³ ECOCERT/COSMOS accepted;¹¹Gluten Free/GMO-free/Kosher/Vegetable derived from GMO-free palm
Want to know more about the philosophy behind our products?
You may also like:
Cautions:
All botanical skincare products may present a very low potential risk of individual allergic reactions. We recommend doing a small patch test prior to fully apply the product to your skin, particularly if you have allergies or sensitivities. Discontinue using the product if swelling or itching occur and contact us to arrange for a refund.
References and further readings